30 Amazing Bible Texts For Healing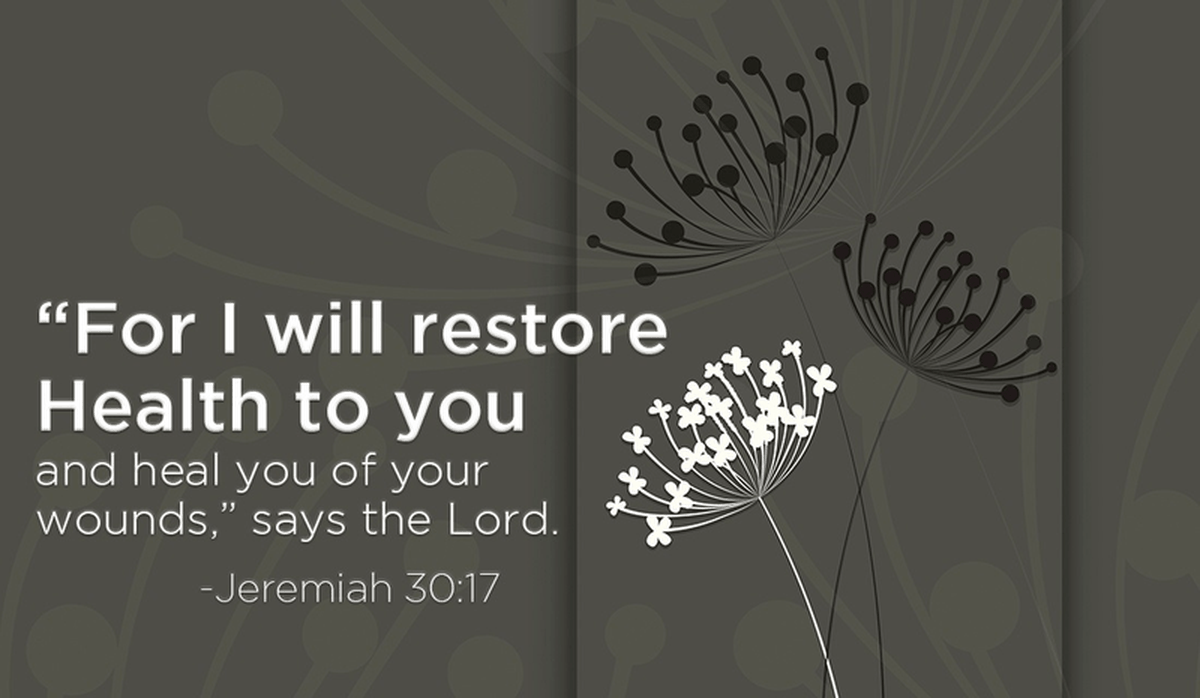 The world is filled with pains and anguish. People are struggling especially with their health, some are coping with terminal illnesses that will not stop disturbing them. But there is hope for us, there are amazing Bible promises concerning our health.
No matter the situation of your pains, just claim the promises of God concerning your health and experience the refreshing health God has promised.
Check out 30 Amazing Bible Texts For Healing
1. But I will restore you to health and heal your wounds,' declares the LORD…" — Jeremiah 30:17
2. "Come to me, all you who are weary and burdened, and I will give you rest." — Matthew 11:28
3. "Is anyone among you sick? Let them call the elders of the church to pray over them and anoint them with oil in the name of the Lord. And the prayer offered in faith will make the sick person well; the Lord will raise them up. If they have sinned, they will be forgiven." — James 5:14-15
4. "He gives power to the weak, and to those who have no might He increases strength…Those who wait on the LORD shall renew their strength; they shall mount up with wings like eagles, they shall run and not be weary, they shall walk and not faint." — Isaiah 40:29,31
5. "He himself bore our sins in his body on the tree, that we might die to sin and live to righteousness. By his wounds, you have been healed." — 1 Peter 2:24
6."This is my comfort in my affliction, that your promise gives me life." — Psalm 119:50
7. "He heals the brokenhearted and binds up their wounds." — Psalm 147:3
8. "Beloved, I pray that all may go well with you and that you may be in good health, as it goes well with your soul." — 3 John 1:2
9. "My flesh and my heart may fail, but God is the strength of my heart and my portion forever." — Psalm 73:26
10. " But for you who fear My name, the sun of righteousness shall rise with healing in its wings. You shall go out leaping like calves from the stall." — Malachi 4:2
11." Heal me, O LORD, and I shall be healed; save me, and I shall be saved, for you are my praise." — Jeremiah 17:14
12. "Have mercy on me, LORD, for I am faint; heal me, LORD, for my bones are in agony." — Psalm 6:2
13." Praise the LORD, my soul, and forget not all his benefits —who forgives all your sins and heals all your diseases, who redeems your life from the pit and crowns you with love and compassion." — Psalm 103:2-4
14." The righteous cry out, and the LORD hears them; he delivers them from all their troubles. The LORD is close to the brokenhearted and saves those who are crushed in spirit." — Psalm 34:17-18
15. "Worship the LORD your God, and his blessing will be on your food and water. I will take away sickness from among you…" — Exodus 23:25
16. "The Lord gives sight to the blind, the Lord lifts up those who are bowed down, the Lord loves the righteous." – Psalm 146:8
17. "Dear friend, I pray that you may enjoy good health and that all may go well with you, even as your soul is getting along well." – 3 John 1:2
18. "The is what the Lord, the God of your father David, says: 'I have heard your prayer and seen your tears; I will heal you." – 2 Kings 20:5
19. "Heal me, Lord, and I will be healed; save me and I will be saved, for you are the one I praise." – Jer 17:14
20.'I have seen their ways, but I will heal them; I will guide them and restore comfort to Israel's mourners, creating praise on their lips. Peace, peace, to those far and near,' says the Lord, 'And I will heal them.'-Isaiah 57:18-19
21." He sent out his word and healed them; he rescued them from the grave. Let them give thanks to the Lord for his unfailing love and his wonderful deeds for mankind."- Psalm 107:20-21
22 "Lord my God, I called to you for help, and you healed me." – Psalm 30:2
23. "The Lord sustains them on their sickbed and restores them from their bed of illness." Psalm 41:3
24. "Then your light will break forth like the dawn, and your healing will quickly appear; then your righteousness will go before you, and the glory of the Lord will be your rear guard." Psalm 58:8
25. 'Nevertheless, I will bring health and healing to it; I will heal my people and will let them enjoy abundant peace and security." Jeremiah 33:6
26. "He said, "If you listen carefully to the Lord your God and do what is right in his eyes, if you pay attention to his commands and keep all his decrees, I will not bring on you any of the diseases I brought on the Egyptians, for I am the Lord, who heals you."
27. "The Lord will keep you free from every disease. He will not inflict on you the horrible diseases you knew in Egypt, but he will inflict them on all who hate you." Deuteronomy 7:15
28. "And my God will meet all your needs according to the riches of his glory in Christ Jesus." Philippians 4:19
29. "Have mercy on me, Lord, for I am faint; heal me, Lord, for my bones are in agony." Psalm 6:2
30. "Peace I leave with you; my peace I give you. I do not give to you as the world gives. Do not let your hearts be troubled and do not be afraid." – John 14:27