Sabbath School Lesson For Adult, 4th Quarter 2023 (PDF)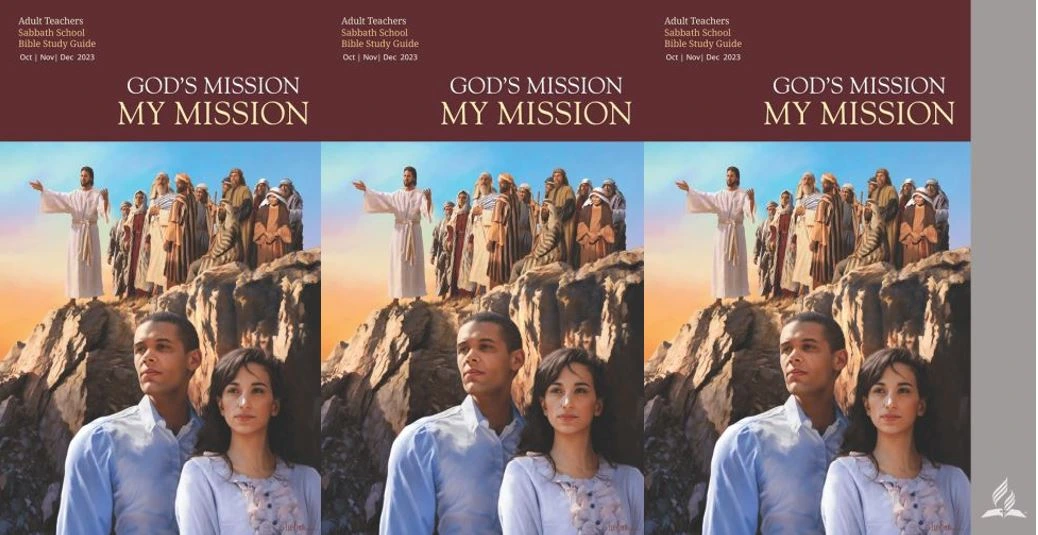 This quarter's Sabbath School lesson offers an opportunity to look into the teachings of the Bible, aiming to provide valuable insights for our spiritual development. It's not just a study session but also a time for fellowship and community building.
Through engaging discussions and sharing perspectives, participants can learn from one another and collectively strengthen their faith journey. The lessons will explore timeless truths and practical guidance from the Bible, encouraging personal reflection, group discussions, and practical applications.
The goal is to approach these lessons with open hearts and minds, ready for transformation. Sabbath School fosters a safe and supportive environment where everyone's contributions are valued. Together, participants embark on a journey of discovery, growth, and spiritual enrichment, seeking to apply God's Word in meaningful ways to their lives.
Link to Sabbath School 2023 Previous lesson
Sabbath School Lesson 4th Quarter 2023
Title: God's Mission My Mission
Contents and Introduction:
Lesson 1 – God's Mission to Us: Part 1: September 30—October 6, 2023
Memory Text:
"Then the Lord God called Adam and said to him, 'Where are you?' " (Genesis 3:9, NKJV).
Lesson 2 – God's Mission to Us: Part 2: October 7–13, 2023
Memory Text:
"Go therefore and make disciples of all the nations, baptizing them in the name of the Father and of the Son and of the Holy Spirit" (Matthew 28:19, NKJV).
Lesson 3 – God's Call to Mission: October 14–20, 2023
Memory Text:
"But you shall receive power when the Holy Spirit has come upon you; and you shall be witnesses to Me in Jerusalem, and in all Judea and Samaria, and to the end of the earth" (Acts 1:8, NKJV).
Lesson 4 – Sharing God's Mission:  October 21–27, 2023
"A new commandment I give to you, that you love one another; as I have loved you, that you also love one another. By this all will know that you are My disciples, if you have love for one another" (John 13:34, 35, NKJV).
Lesson 5 – Excuses to Avoid Mission:  October 28–November 3, 2023
"Also I heard the voice of the Lord, saying: 'Whom shall I send, and who will go for Us?' Then I said, 'Here am I! Send me' " (Isaiah 6:8, NKJV)
Lesson 6 – Motivation and Preparation for Mission: November 4–10, 2023
Memory Text:
" 'These are the words which I spoke to you while I was still with you, that all things must be fulfilled which were written in the Law of Moses and the Prophets and the Psalms concerning Me' " (Luke 24:44, NKJV).
Lesson 7 – Mission to my Neigbour:  November 11–17, 2023
Memory Text:
"He answered, ' "Love the Lord your God with all your heart and with all your soul and with all your strength and with all your mind"; and, "Love your neighbor as yourself." ' " (Luke 10:27, NIV).
Lesson 8 – Mission to the Needy:  November 18–24, 2023
Memory Text:
"And the King will answer and say to them, 'Assuredly, I say to you, inasmuch as you did it to one of the least of these My brethren, you did it to Me' " (Matthew 25:40, NKJV).
Lesson 9 – Mission to the Powerful: November 18–24, 2023
Memory Text:
"For what profit is it to a man if he gains the whole world, and loses his own soul? Or what will a man give in exchange for his soul?" (Matthew 16:26, NKJV)
Lesson 10 – Mission to the Unreached Part 1:  December 2–8, 2023
Memory Text:
" 'The God who made the world and everything in it is the Lord of heaven and earth and does not live in temples built by human hands' " (Acts 17:24, NIV).
Lesson 11 – Lesson 10 – Mission to the Unreached Part 2 :  December 9–15, 2023
"Then Jesus answered and said to her, 'O woman, great is your faith! Let it be to you as you desire.' And her daughter was healed from that very hour" (Matthew 15:28, NKJV).
Lesson 12 – Esther and Mordecai:  December 16–22, 2023
Memory Text:
" 'I will give you as a light to the nations, that my salvation may reach to the end of the earth' " (Isa. 49:6, NRSV).
Lesson 13 -The End of God's Mission:  December 23–29, 2023
Memory Text:
"Therefore, since all these things will be dissolved, what manner of persons ought you to be in holy conduct and godliness, looking for and hastening the coming of the day of God . . . ?" (2 Peter 3:11, 12, NKJV).
Sabbath School 2023