Sabbath School Study Guide, 2nd Quarter 2023 – Download Material (PDF)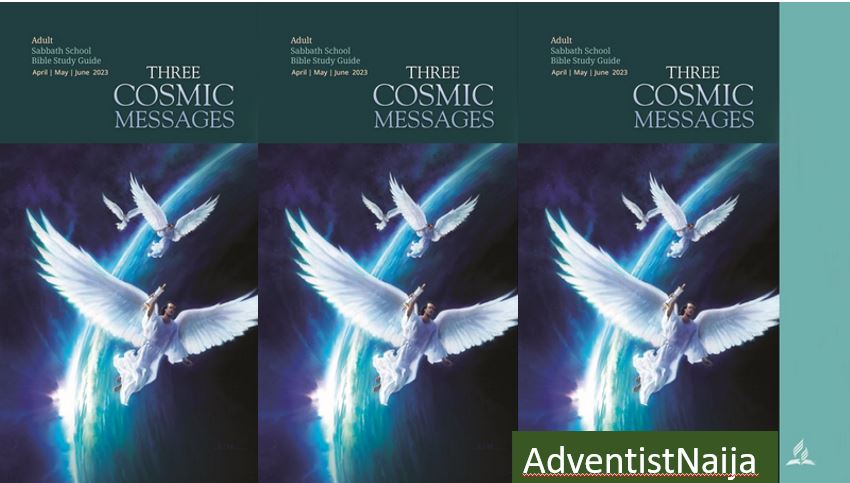 Welcome to Sabbath School 2nd Quarter.
The theme of 2nd quarter lesson in 2023 is Three Cosmic Messages.
The three angels' messages are, in a sense, the marching orders of the Seventh-day Adventist Church. And at their core, they are the gospel, pure and simple, but the gospel presented in the context of "present truth" (2 Pet. 1:12, NKJV).
Revelation 12 presents a stream of dramatic episodes, snapshots of the age-long conflict between good and evil that began in heaven but will end here on earth. These episodes take us down the stream of time, from the opening scene of Satan's rebellion in heaven to his vicious attacks on God's people in the last days.
Download materials for Sabbath School Study Guide, 2nd Quarter 2023
Contents and Introduction:
Lesson 1: Jesus Wins-Satan Loses – March 25-March 31
Lesson 2: A Moment of Destiny – April 1-7
Lesson 3: The Everlasting Gospel – April 8-14
Lesson 4: Fear God and Give Glory to Him – April 15-21
Lesson 5: The Good News of the Judgment – April 22-28
Lesson 6: The Hour of His Judgment – April 29-May 5
Lesson 7: Worshiping the Creator – May 6-12
Lesson 8: The Sabbath and the End – May 13-19
Lesson 9: A City Called Confusion – May 20-26
Lesson 10: Satan's Final Deceptions – May 27-June 2
Lesson 11: The Seal of God and Mark of the Beast: Part 1- June 3-9
Lesson 12: The Seal of God and Mark of the Beast: Part 2 – June 10-16
Lesson 13: Ablaze With God's Glory – June 17-23
Sabbath School 2nd Quarter
Last quarter lesson – CLICK