Sermon: Finding Purpose in Times of Adversity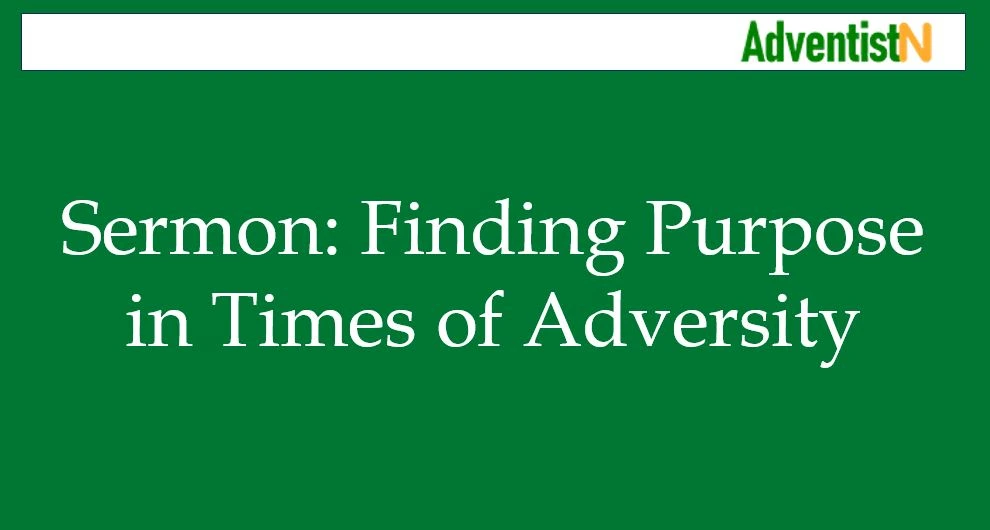 Introduction:
Good morning/afternoon, beloved congregation. Today, we gather to explore a topic that resonates with each of us – finding purpose in times of adversity. Life's challenges, trials, and setbacks can often leave us questioning our path and purpose. But it is during these moments that God's wisdom and grace guide us towards a greater understanding of His divine plan for our lives.
Bible References:
Romans 8:28 (NIV)
"And we know that in all things God works for the good of those who love him, who have been called according to his purpose."
Jeremiah 29:11 (NIV)
"For I know the plans I have for you, declares the Lord, plans for welfare and not for evil, to give you a future and a hope."
James 1:2-4 (NIV)
"Consider it pure joy, my brothers and sisters, whenever you face trials of many kinds, because you know that the testing of your faith produces perseverance. Let perseverance finish its work so that you may be mature and complete, not lacking anything."
Understanding Adversity:
Adversity, though challenging, is an inevitable part of life. Whether it's physical, emotional, or spiritual, adversity shapes us and molds us into who we are meant to become. It's important to remember that God's plan for us isn't exempt from hardship; rather, it is through adversity that we can draw closer to His purpose for our lives.
God's Sovereign Purpose:
In Romans 8:28, we are reminded that God works all things – even the trials – for the good of those who love Him. The adversities we face are not random, but carefully orchestrated by a loving God who has a purpose for each season of our lives.
Trusting God's Plans:
Jeremiah 29:11 reassures us that God's plans for us are filled with hope and a prosperous future. While adversity may cause us to doubt, this verse encourages us to trust that God's purposes will prevail even in the midst of uncertainty.
Perseverance and Maturity:
James 1:2-4 reminds us that trials produce perseverance, which in turn leads to maturity and completeness. Adversity isn't meant to break us; it's meant to refine us, making us stronger and more aligned with God's purpose.
Joseph's Journey:
The story of Joseph in the book of Genesis illustrates how adversity can lead to purpose. Despite facing betrayal, slavery, and imprisonment, Joseph's unwavering faith led him to a position of influence where he saved his family and an entire nation from famine.
Paul's Perspective:
The Apostle Paul faced numerous adversities, yet he found purpose in spreading the gospel. In Philippians 1:12-14, he shares that his imprisonment actually advanced the gospel, revealing that even in dire circumstances, God's purpose can be fulfilled.
Finding Purpose in Adversity:
Seek God's Guidance: Turn to prayer and seek God's wisdom during challenging times.
Anchor in Scripture: Find comfort and guidance in God's Word, which offers hope and encouragement.
Embrace Growth: Recognize that adversity refines your character and strengthens your faith.
Serve Others: Use your experiences to empathize and support others facing similar struggles.
Persevere in Faith: Trust that God's sovereign purpose will prevail, even in the face of adversity.
Conclusion:
In closing, adversity is not an obstacle to God's plan but an integral part of it. Just as precious metals are refined through fire, we are refined through trials, shaping us into vessels capable of fulfilling God's purpose for our lives. Let us find solace in the knowledge that God is with us in every storm, guiding us towards the purpose He has ordained for us.
May we emerge from adversity with a deeper understanding of His sovereignty and a strengthened commitment to fulfilling His divine plan. Amen.
Finding Purpose in Times of Adversity
Read Also – Sermon: Finding Hope in Difficult Times