Sermon: The Joy of Giving – Generosity and its Impact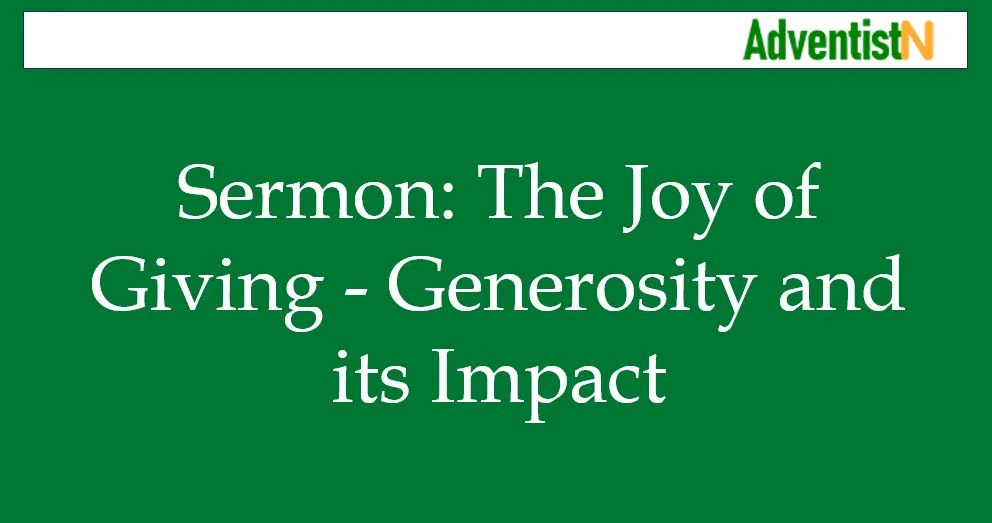 Generosity is a virtue that holds a special place in the hearts of many, transcending cultures and religions. In Christianity, the act of giving is deeply rooted in the teachings of Jesus Christ, who exemplified selflessness, compassion, and the joy of sharing with others. This blog post will delve into the transformative power of generosity, its impact on both the giver and the receiver, and how biblical principles encourage us to cultivate a giving spirit that leads to a more fulfilling and compassionate life.
Biblical Perspective on Giving:
Acts 20:35 (NIV): "In everything I did, I showed you that by this kind of hard work we must help the weak, remembering the words the Lord Jesus himself said: 'It is more blessed to give than to receive.'"
Proverbs 11:24-25 (NIV): "One person gives freely, yet gains even more; another withholds unduly, but comes to poverty. A generous person will prosper; whoever refreshes others will be refreshed."
2 Corinthians 9:7 (NIV): "Each of you should give what you have decided in your heart to give, not reluctantly or under compulsion, for God loves a cheerful giver."
The Transformative Power of Generosity:
Joyful Release of Attachment: Jesus' teachings often emphasized detaching from material possessions and focusing on the spiritual treasures that come from a generous heart.
Strengthening Relationships: Generosity fosters stronger connections with others, as it reflects Christ's love and compassion in action.
Aligning with Christ's Example: Christ's ultimate act of generosity was sacrificing himself for the salvation of humanity, showcasing the epitome of selflessness.
The Giver's Blessing:
Proverbs 22:9 (NIV): "The generous will themselves be blessed, for they share their food with the poor."
Luke 6:38 (NIV): "Give, and it will be given to you. A good measure, pressed down, shaken together and running over, will be poured into your lap. For with the measure you use, it will be measured to you."
Generosity's Impact on Health and Well-being:
Proverbs 17:22 (NIV): "A cheerful heart is good medicine, but a crushed spirit dries up the bones."
1 Timothy 6:18-19 (NIV): "Command them to do good, to be rich in good deeds, and to be generous and willing to share. In this way, they will lay up treasure for themselves as a firm foundation for the coming age, so that they may take hold of the life that is truly life."
The Joyful Ripple Effect:
Emotional Well-being: Studies show that acts of generosity trigger the release of feel-good neurotransmitters in the brain, such as dopamine and oxytocin, leading to a sense of happiness and fulfillment.
Reduced Stress: Engaging in acts of kindness has been linked to reduced stress levels and a sense of calm, as focusing on the needs of others can help shift the focus away from personal worries.
Enhanced Relationships: Giving strengthens interpersonal relationships, fostering trust and emotional bonds that extend beyond the act itself.
Cultivating a Giving Spirit:
Matthew 6:3-4 (NIV): "But when you give to the needy, do not let your left hand know what your right hand is doing, so that your giving may be in secret. Then your Father, who sees what is done in secret, will reward you."
1 John 3:17 (NIV): "If anyone has material possessions and sees a brother or sister in need but has no pity on them, how can the love of God be in that person?"
Generosity as a Spiritual Discipline:
2 Corinthians 9:11 (NIV): "You will be enriched in every way so that you can be generous on every occasion, and through us your generosity will result in thanksgiving to God."
Hebrews 13:16 (NIV): "And do not forget to do good and to share with others, for with such sacrifices God is pleased."
Conclusion:
The joy of giving is a divine gift that aligns us with the heart of God and the teachings of Jesus Christ. As we embrace the transformative power of generosity, we reflect Christ's love, compassion, and selflessness. The Bible is replete with verses that encourage us to give with joy, share with others, and place our trust in God's abundance.
As we cultivate a giving spirit, we not only impact the lives of those we help but also experience a profound sense of fulfillment and contentment. Let us heed the wisdom of Scripture, embrace the joy of giving, and follow in the footsteps of the ultimate Giver – Jesus Christ – who bestowed upon us the most selfless and transformative gift of all: salvation.
Read Also- Sermon: Cultivating a Heart of Gratitude