Sermon: The Role of Faith in Overcoming Addiction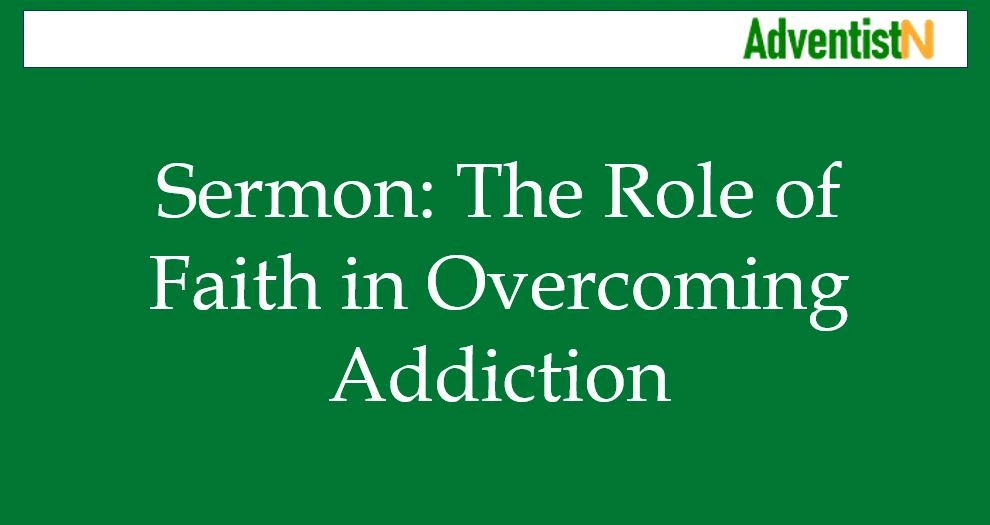 Introduction
Today, we gather to discuss a topic that affects countless lives: addiction. This is a struggle that transcends age, background, and circumstances, leaving many feeling trapped and hopeless. But in the midst of darkness, we have a source of light and strength that can guide us through even the most challenging journeys: faith. Together, let's explore how faith plays a pivotal role in overcoming addiction, drawing wisdom and inspiration from the timeless words of the Bible.
The Nature of Addiction: A Battle for the Soul
Addiction is a formidable adversary that can impact every facet of our being. It's not just about substances or behaviors; it's about the battle for our souls and the disruption it brings to our relationships, our purpose, and our connection to God.
Finding Strength in Faith
Trusting in God's Power: The Apostle Paul, in Philippians 4:13 (NIV), reminds us that "I can do all this through him who gives me strength." With faith, we tap into a source of power greater than ourselves – the power of God – to overcome even the most stubborn addictions.
Seeking Refuge in God: Psalm 46:1 (NIV) brings us comfort with the words, "God is our refuge and strength, an ever-present help in trouble." When addiction overwhelms us, we can find refuge in the arms of our Heavenly Father, who is always there to offer solace and guidance.
Breaking the Chains of Addiction
Renewal of Mind: In Romans 12:2 (NIV), we are encouraged not to conform to the patterns of this world, but to be transformed by the renewing of our minds. Faith-driven transformation involves renewing our minds through God's word, breaking free from the chains of addiction that have kept us captive.
Resisting Temptation: James 4:7 (NIV) implores us to submit ourselves to God and resist the devil. Through faith, we gain the strength to say "no" to the temptations that have ensnared us, as we draw our strength from the Almighty.
Community and Accountability
Support from Fellow Believers: The wisdom of Ecclesiastes 4:9-10 (NIV) reminds us of the power of community: "Two are better than one… If either of them falls down, one can help the other up." Within our faith community, we find support, understanding, and encouragement as we journey toward freedom from addiction.
Confession and Healing: James 5:16 (NIV) teaches us, "Therefore confess your sins to each other and pray for each other so that you may be healed." Through the support of our fellow believers, we can openly share our struggles, receive healing, and move toward a life of wholeness.
Walking in the Light of Faith
Stepping Out of Darkness: In 1 Peter 2:9 (NIV), we are reminded of our chosen identity: "But you are a chosen people, a royal priesthood, a holy nation, God's special possession." Through faith, we can step out of the darkness of addiction and into the marvelous light of God's grace.
Embracing God's Plan: Jeremiah 29:11 (NIV) assures us of God's plans for our lives: "'For I know the plans I have for you,' declares the Lord, 'plans to prosper you and not to harm you, plans to give you hope and a future.'" Through faith, we trust that God's plan for us extends beyond our struggles, offering hope, healing, and a renewed sense of purpose.
Conclusion: Faith as the Guiding Light
In the midst of addiction's storm, faith stands as an unwavering anchor. Our faith is a source of strength that helps us face our struggles with courage, hope, and determination. It connects us to a higher power and provides us with the tools to overcome even the most formidable challenges. As we lean on our faith and support one another, we can break free from addiction's grip and step into a life filled with freedom, joy, and purpose. Let us lift up those who are battling addiction in our prayers, and let us seek God's wisdom and guidance on our collective journey toward recovery, transformation, and a life of lasting fulfillment. May our faith be the guiding light that leads us from darkness into His marvelous light. Amen.
The Role of Faith in Overcoming Addiction
Read Also- Sermon: Cultivating a Heart of Gratitude