Sermon: Overcoming Fear and Finding Courage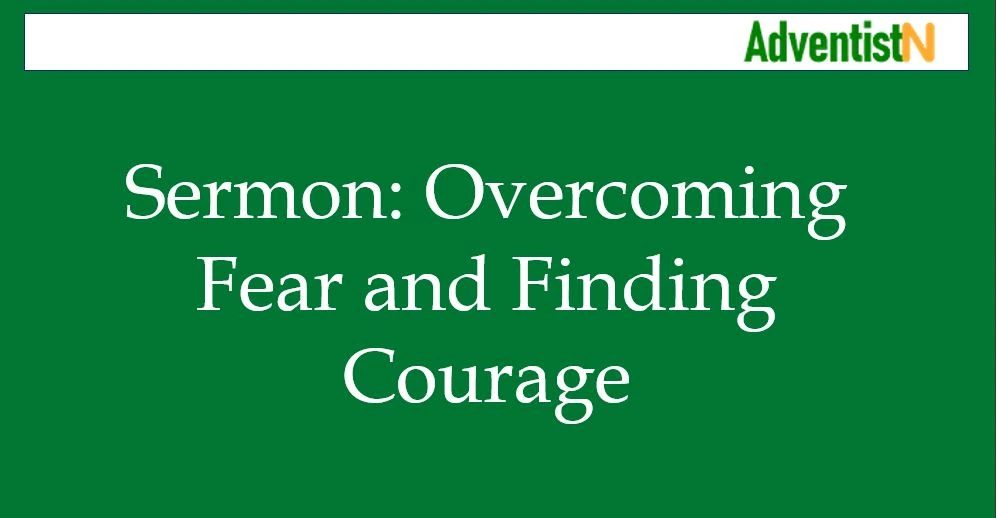 Introduction:
Good morning/afternoon, dear congregation. Today, we gather to address a universal human experience – fear. Fear has the potential to paralyze us, hinder our growth, and separate us from God's purpose for our lives. But, in His Word, we find countless stories of overcoming fear with unwavering courage. Our exploration today will focus on the biblical examples of individuals who conquered fear and discovered the transformative power of courage.
Bible References:
Joshua 1:9 (NIV)
"Have I not commanded you? Be strong and courageous. Do not be afraid; do not be discouraged, for the Lord your God will be with you wherever you go."
Psalm 27:1 (NIV)
"The Lord is my light and my salvation—whom shall I fear? The Lord is the stronghold of my life—of whom shall I be afraid?"
Isaiah 41:10 (NIV)
"So do not fear, for I am with you; do not be dismayed, for I am your God. I will strengthen you and help you; I will uphold you with my righteous right hand."
Overcoming Fear:
The Bible often reminds us that fear is not from God. Instead, He calls us to embrace courage, knowing that He is always with us. Joshua's story is a testament to this truth. Despite facing the unknown, God's promise to be with him instilled the courage he needed to lead the Israelites into the Promised Land.
Finding Courage in God's Presence:
In Psalm 27:1, David asserts that God's presence dispels fear. Knowing that the Lord is our stronghold and salvation empowers us to face challenges with unwavering courage.
God's Promises: Our Foundation:
God's promises are an anchor for our courage. In Isaiah 41:10, He reassures us that His strength will support us, no matter the circumstances. This assurance enables us to overcome fear and find courage in His faithfulness.
Transformed by Faith:
Biblical figures like Esther, who risked her life to save her people, and Peter, who stepped out of the boat to walk on water, exemplify courage born out of faith. When we place our trust in God, fear loses its grip on us.
Courage in the Face of Uncertainty:
Abraham's journey of faith is a reminder that God's plans may not always be clear, but His faithfulness remains steadfast. Abraham's courage to leave his homeland stemmed from his trust in God's guidance.
Practical Steps to Finding Courage:
Prayer and Meditation: Seek God's presence through prayer and meditation on His Word to find courage.
Community: Surround yourself with supportive Christian friends who uplift and encourage you.
Stepping Out: Embrace challenges with the knowledge that God's strength is perfected in our weaknesses.
Remembering God's Promises: Hold onto the promises found in Scripture during moments of fear.
Conclusion:
As followers of Christ, we're called to live lives of courage, overcoming fear through our faith in Him. Just as Joshua, David, Esther, and Abraham found courage in God's presence and promises, we too can triumph over fear. May we continuously seek refuge in the Word, draw strength from God's promises, and step into the unknown with unwavering faith. Let us remember that we serve a God who walks beside us, dispelling fear and igniting courage as we navigate life's journey. Amen.