8 short lessons from Ecclesiastes 3 – M. Jackson.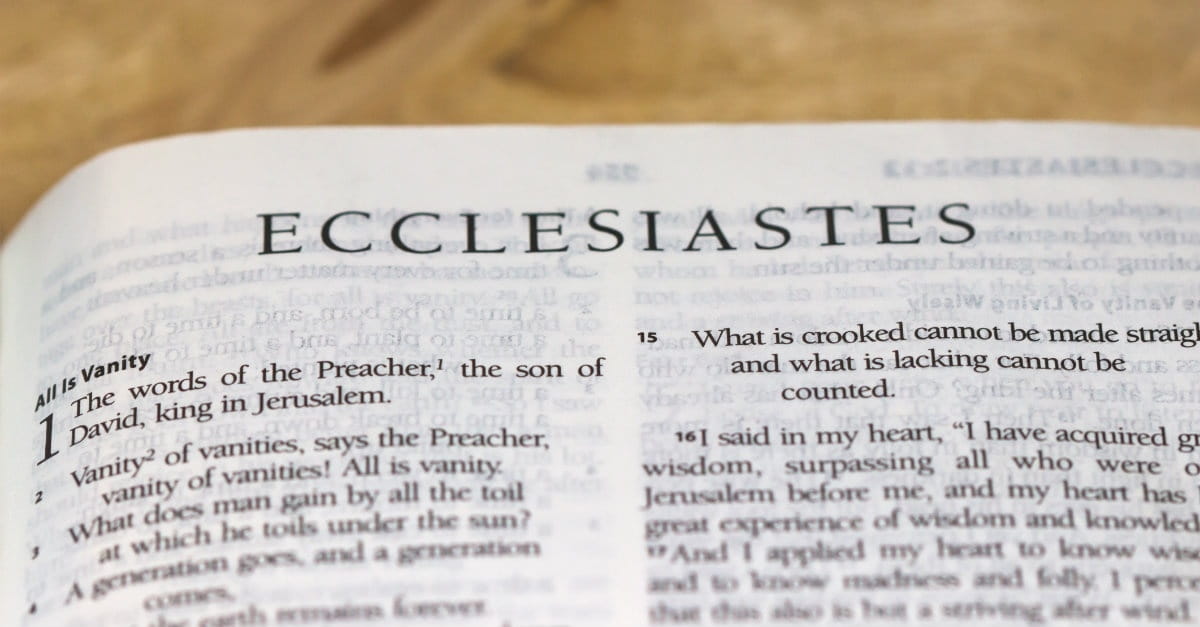 The namw "Ecclesiastes" comes from a Greek word indicating a person who calls an assembly, so it makes sense that the author identified himself in Ecclesiastes 1:1 by the Hebrew word qoheleth, translated as "Preacher. King Solomon wrote the book and it holds so many lessons. Lessons that can guide us through the struggle of this world. Today we will be focusing on Ecclesiastes 3.
Lesson 1
There is time for everything vs 1-8. God has made everything beautiful in it's time.
1 There is a time for everything,
and a season for every activity under the heavens:
2. a time to be born and a time to die,
a time to plant and a time to uproot,
3. a time to kill and a time to heal,
a time to tear down and a time to build,
4. a time to weep and a time to laugh,
a time to mourn and a time to dance,
5. a time to scatter stones and a time to gather them,
a time to embrace and a time to refrain from embracing,
6. a time to search and a time to give up,
a time to keep and a time to throw away,
7. a time to tear and a time to mend,
a time to be silent and a time to speak,
8. a time to love and a time to hate,
a time for war and a time for peace.
Lesson 2
No one can find out the work that God does from beginning to end. We cannot know everything about God or what He does. vs 9-11

9 What do workers gain from their toil? 10 I have seen the burden God has laid on the human race. 11 He has made everything beautiful in its time. He has also set eternity in the human heart; yet[a] no one can fathom what God has done from beginning to end.
Lesson 3
Rejoice, and do good with what you have and with your life. Enjoy the fruit of your 'good' labor_it is the Gift of God. Vs 12-13.
12.  I know that there is nothing better for people than to be happy and to do good while they live. 13 That each of them may eat and drink, and find satisfaction in all their toil—this is the gift of God.
Lesson 4
Vs 14, whatever God does stands forever, we cannot add to what God has already made, neither can we subtract from it.
14. I know that everything God does will endure forever; nothing can be added to it and nothing taken from it. God does it so that people will fear him.
Lesson5
Vs 15, what we see today has been in existence; and what we would see in the future had already been in existence. In essence, there is nothing really new in this world. What we call new and futuristic is what we modify from what God has already created. That's why He demands us to give account of everything.
15. Whatever is has already been, and what will be has been before; and God will call the past to account.
Lesson 6
Vs 16-17, wickedness may overcome righteousness, but God will judge the righteous and the wicked. There is a set time for (to judge ) every purpose and every work (what we do).
16 And I saw something else under the sun: In the place of judgment—wickedness was there, in the place of justice — wickedness was there.
17 I said to myself,"God will bring into judgment both the righteous and the wicked, for there will be a time for every activity, a time to judge every deed."
Lesson 7
Vs 18-21, after all, there is no difference between us and the animals when it comes to death. We all die and return to the dust from where we were taken. The only difference is that our breath goes back to the source (goes up) God. And that of the animals goes down to the earth since God did not breath into their nostrils the breath of life. But the bottom line is we all breath, so we all die.
18 I also said to myself, "As for humans, God tests them so that they may see that they are like the animals. 19 Surely the fate of human beings is like that of the animals; the same fate awaits them both: As one dies, so dies the other. All have the same breath[c]; humans have no advantage over animals. Everything is meaningless. 20 All go to the same place; all come from dust, and to dust all return. 21 Who knows if the human spirit rises upward and if the spirit of the animal goes down into the earth?"
Lesson 8
Vs22, so in conclusion, nothing is better than rejoicing in the work of your hand and the delighting yourself in the good of your labor which is a gift from God; this is your heritage and only reward here on earth, to use very well what God has blessed you with to do good. Because when you die, you cannot come back to see how those who inherited all you have acquired will use it. So do the best that you can now that you are alive. We only have one life, live it to the fullest in glory to God. May God bless and keep us to His Glory. Amen.
22 So I saw that there is nothing better for a person than to enjoy their work, because that is their lot. For who can bring them to see what will happen after them?